Roscoe Central School students and staff honored local veterans with a breakfast and assembly Thursday, Nov. 10, in advance of Veterans Day.
The morning began with a meet and greet and a continental breakfast, with food provided by staff and the community.
The veterans then moved to the gymnasium for the assembly, which was organized by retired RCS staff member Jackie France and art teacher Michele Hood.
Students and staff clapped as the 15 veterans and active military members entered. After a welcome by Superintendent John Evans, student Megan McDoal led attendees in the pledge of allegiance, The high school choir offered the first musical selection of the day, "The Star-Spangled Banner."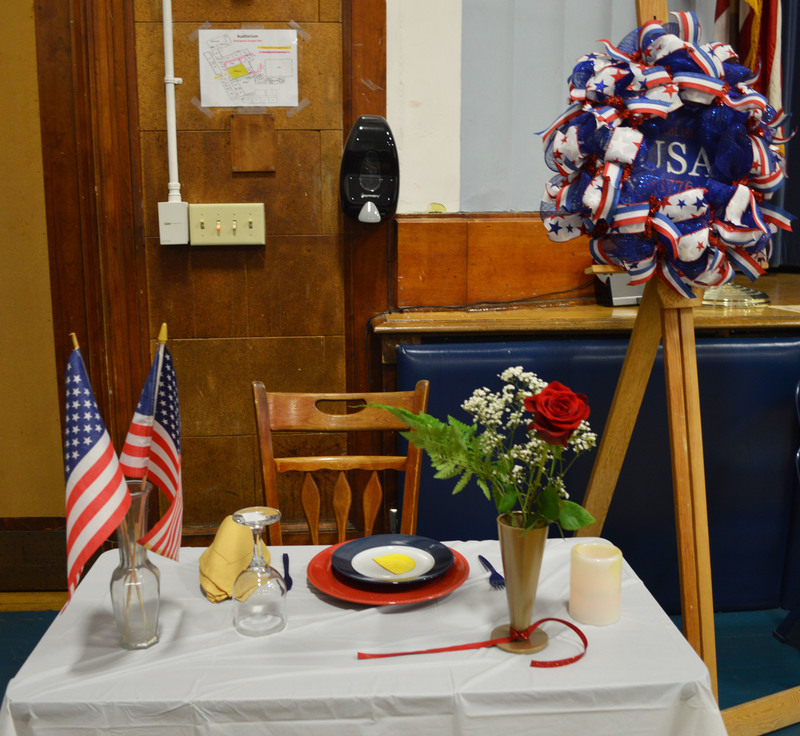 Terry Grabowski, the National Commander for Disabled American Veterans Auxiliary, then explained the symbolism of the POW/MIA "Missing Man" table set up to the right of the veterans: The white tablecloth for the purity of their motives to serve; the single red rose a reminder of the missing and their loved ones and friends; a red ribbon for the continued determination to account for the missing; a slice of lemon for the missings' bitter fate; a pinch of salt for the tears of the missing and their families; the lighted candle for the hope for their return, alive or dead; the inverted glass for the missings' inability to share a toast; and the empty chair for the seat that remains unclaimed at the table.
This was followed by performances of "A Grand Old Flag" by the elementary students and the middle school choir, and "Eagle Summit March" by the high school band.
Valerie Rittendale, local coordinator of Wreaths Across America, explained the program and told of local events happening next month.
After each veteran was introduced, classes presented gifts. At the conclusion of the program, students stopped to shake hands with the honored guest and thanked them for their service.
See more photos of the event on our Facebook page